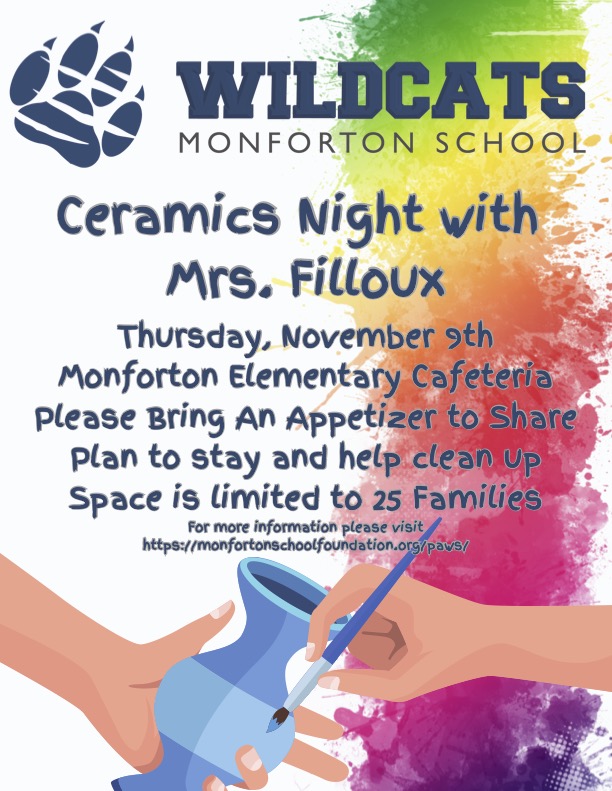 PAWS Family Fun Night: Ceramics with Ms. Filloux
This Family Fun Night has been so popular in the past, PAWS is trying something new this year to make it a more "fair & equitable" attended event. You'll sign-up to indicate you're interested in attending. We will draw family names on November 1st to see who will fill the 25 spots. The event is free, but you can purchase 1 extra ticket to increase your chances of attendance by donating $5 to PAWS.
Via PAWS venmo: @PAWS-Monforton
You can also click here for our Venmo: PAWS Venmo
Or cash to the front elementary office (label the envelope with your name & "ceramics lottery").
1 – Sign up here by October 31st to indicate your commitment to the evening.
2 – Do nothing else to have 1 chance at winning a spot or donate $5 to have 2 chances of your name being drawn.
3 – Wait to hear via email on November 1st if your family was picked for one of the 25 spots & attend the evening.
If your name is drawn, attend:
Thursday ~ November 9 @ 5pm-6:30pm
Elementary Cafeteria
Bring a light appetizer or snack to share.
Thank you – PAWS
Note: The cost of a lottery ticket is not deductible as a charitable contribution. Proceeds from lottery ticket sales will go to funding PAWS programs, activities, and operations.